Your support is needed and is appreciated as Amigaworld.net is primarily dependent upon the support of its users.




Topic
Replies
OS4.1 Final Edition help/tips/hints thread (1, 2, 3, ... , 8)
149
30 years! Amiga Party
6
SuperBase (1, 2)
21
Os4 backup solutions (1, 2)
21
X1000 hardware clock doesn't keep the current time
13
AmigaOS4.1_Update_5-Debug?!
1
New version of FinalBurn Alpha AmigaOS4 (1, 2)
37
Beginner on AmigaOne XE Linux (1, 2, 3, 4)
61
Epsilon's Amiga X1000 Blog Updated (1, 2, 3, ... , 13)
243
Amistore problems
7
»» Recent Topics »» Visit Forums



A-EON Technology Ltd is pleased to announce that it has purchased the source code and development rights for ImageFX and Cinemorph from Woodall Design LLC. As part of the sale agreement A-EON has also acquired exclusive rights to the latest ImageFX 4.5 Studio Edition for AmigaOS and MorphOS. This includeds the updated ImageFX 4.5 Studio manual along with full rights to the ImageFX and Cinemorph trademarks together with a sublicence for the Cinematte trademarks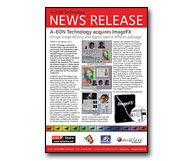 PDF News Release

A-EON Technology Ltd
www.a-eon.com


22 comments (1 , 2)
The Amiga Games List maintained by David 'Daff' Brunet since April 1991 was updated with its 44th edition published on 17th January. Among others, all games from 2014 was added. Thus the total reached 12,235 entries as follows:

Read more ---->

1 comment | Read more
Next FCUG meeting - Sunday, Jan. 18
Events posted by RobertB on 13-Jan-2015 17:28:28 (245 reads)
Happy New Year, C= and Ami aficionados!

The Fresno Commodore User Group has its next meeting from 11 a.m. to 1+ p.m., Sunday, Jan. 18 at --

Bobby Salazar's Mexican Restaurant
2839 North Blackstone Ave. (corner of Blackstone and Michigan)
Fresno, California

Barring any monitor problems like we had last month, we'll retry Misfit's Super Starship Space Attack for the VIC-20. For the Plus/4, we'll have the serious SVS-Calc 2.5 spreadsheet program and the fun Xplode Man game (a Bomberman clone). On the C64 side, we will look at the Cloanto's newest C64 Forever 2014 CD for the PC. On the Amiga side, we'll have an Amiga 1200 with Blizzard '060, 256 megs of Fast RAM, OS 3.9, and 4 gig CompactFlash drive with a variety of programs installed.

FCUG celebrating 33 years!
Robert Bernardo
Fresno Commodore User Group
http://www.dickestel.com/fcug.htm
Post comment
zTools 1.3 available on AMIStore
software OS4 posted by zzd10h on 13-Jan-2015 8:55:29 (797 reads)
zTools 1.3 is now available as a free update on the AMIStore.


This version contains updates for Installer, aTunes_Cover_AAmp, SysMon, NetDock, WebReplay, FastView, FlipPaper, FastCompress and AttachMail for AmigaOS 4.1 FE compatibility


See below for more details...




14 comments | Read more
Happy new year to everyone

I have just uploaded the newest version of Aros Vision


1 comment | Read more
Assist 2.0 is now available to download from OS4Depot. This update sees significant changes to make browsing the A to Z faster, a fresh new look and much more.

Assist is now shareware with registration required to enjoy all the knowledge base's features, please see the 'Register' link in Assist for further details. To celebrate the release of Assist 2.0 the 30th user to register will receive a free 2015 Amiga 30th Anniversary Calendar.

New users can grab the latest version from OS4Depot, while existing users can update to this latest release via AmiUpdate.


3 comments | Read more
New Personal Paint 7.3a Available Now
software OS4 posted by amigakit on 8-Jan-2015 20:09:47 (2969 reads)
A-EON Technology Ltd is pleased to announce a new version of Personal Paint for both AmigaOS 4.1 and AmigaOS 3. The new version is free of charge upgrade for existing 7.3 customers now on AMIStore Amiga App Store and the AmigaOS 3 version is available directly from the A-EON Secure Download website for registered customers.

If you do not yet own PPaint, you can purchase this new version by either visiting the official website (www.ppaint.com) or on the AMIStore App Store.

Personal Paint for the Amiga has recently been purchased by A-EON Technology and is being actively developed by Andy Broad for A-EON. In keeping with our commitment to providing new quality software for the AmigaONE X1000, AmigaOS 4.1 compatible and Classic Amiga computers, expect further upgrades and enhancements to PPaint during 2015.



45 comments (1 , 2 , 3)
Amiga Future issue 112 released
News posted by AndreasM on 7-Jan-2015 15:06:43 (584 reads)
Amiga Future issue 112 released

The English and German issue 112 (Januar/Februar 2015) of the print magazine Amiga Future has been distributed today, and can also be ordered directly from the editorial office of Amiga Future, and the other Amiga dealers that stock the magazine.

Mag Content:

Test VoxelNoid
Test Icaros Desktop
Test AmigaOs 4.1 Final

and so much more ... if you haven't already, get your collectable copy ordered today

A more detailed description of the contents and previews of this issue can be found at the Amiga Future magazine hompepage.

Information: http://www.amigafuture.de/kb.php?mode=article&k=4663
Orders: http://www.amigashop.org


http://www.amigafuture.de
http://www.apc-tcp.de








6 comments
Next SCCAN meeting - Saturday, Jan. 10
Events posted by RobertB on 4-Jan-2015 7:39:29 (596 reads)
Happy New Year, C= and Ami comrades!

The next meeting of the Southern California Commodore & Amiga Network is Saturday, Jan. 10, from 2 to 4+ p.m. at

Panera Bread Restaurant
19662 Nordhoff Street
Northridge, California
(818) 407-9400


2 comments | Read more
[ home ][ about us ] [ forums ][ classifieds ] [ links ][ news archive ] [ link to us ][ user account ]
Polls (Login to view/vote)